by Veritas on Aug.30, 2015, under News, Press &Reviews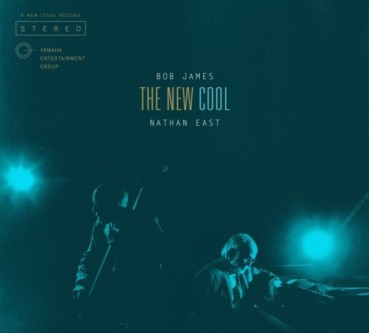 Yamaha Entertainment Group has released The New Cool by pianist Bob James and bassist Nathan East. This acoustic duo of James and East offers their fans a new way of listening to their creative efforts aside from their membership in their Grammy Award-winning group called Fourplay. The legendary keyboardist and master bass player perform 11 songs including several of their original compositions as well as a few classics. Singer/songwriter Vince Gill is featured on "Crazy," while percussionist Rafael Padilla and drummer Scott Williamson appear on "Canto Y La Danza." Chris Gero, Bob James, Nathan East and Bryan Lenox produced The New Cool.
The New Cool is a celebration of more than 25 years of friendship and musical camaraderie between Nathan East and Bob James. The Grammy Award-winning artists extend the boundaries of their musicality on such songs as "The New Cool," and "Oliver's Bag," both of which are minimalist, bluesy duets to the lushly appointed, beautifully orchestrated "Waltz for Judy" featuring the Nashville Recording Orchestra. The waltz reveals another layer of Bob James' virtuosity as a pianist and Nathan East's electric bass guitar wizardry in an orchestral setting. Their rendition of the Latin classic "Canto Y La Danza" features the stellar bass work of Nathan East in several different tempi and the pianism of Bob James at its very best accompanied by Padilla and Williamson.
Comments Off

on Bob James and Nathan East join forces on 'The New Cool' for Yamaha Entertainment
:bob james, fourplay, grammy, nathan east, orchestra, the new cool, Vince Gill, Willie Nelson, yamaha
more...