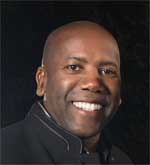 Early Life
Born in Philadelphia, Pennsylvania to Thomas and Gwendolyn East, Nathan is one of seven children (five boys and two girls) raised in San Diego, California, where the family moved when he was four. East first studied cello in seventh through ninth grades and played in his (Horace Mann) junior high school orchestra. At age fourteen he developed an interest in the bass guitar, playing in church (Christ The King) for folk masses with his brothers Raymond and David. He was active in his (Crawford) high school's music programs along with a local top 40 band called "Power". He has said his early influences included Ray Brown, Ron Carter & Charles Mingus on upright bass; and James Jamerson, Paul McCartney and Chuck Rainey on electric bass.
He attended University of California, San Diego where he earned his Bachelor of Arts Degree in Music in 1978.
Musical experience
East has recorded, performed and co-written songs with Anita Baker, Babyface, B.B. King, Eric Clapton, George Harrison, Elton John, Michael Jackson, Stevie Wonder, Sting, Quincy Jones, Al Jarreau, Kenny Loggins, and Herbie Hancock. He co-wrote the Number one hit song "Easy Lover" for Phil Collins and Philip Bailey. He performed on the Grammy award winning Unplugged album with Eric Clapton which featured the classic song "Tears In Heaven"(1992). East, a long-time member of Eric Clapton's studio and touring bands since the early 1980s also played on Clapton's "Change The World" which won Song of the Year at the 1997 Grammy Awards. Other DVD/Videos Nathan appears on include Babyface Unplugged (1997), Phil Collins "Live & Loose in Paris" (1998), Clapton's "24 Nights", "One More Car, One More Rider"(2001), Crossroads (2005), Fourplay "Live in Cape Town (2006), Andrea Bocelli's, Vivere: Live in Tuscany (2007) & David Foster & Friends (2008).
Nathan appeared at the Barack Obama Inaugural Celebration Concert "We Are One" at the Lincoln Memorial in Washington, D.C. (2009)
East is one of the original members of Fourplay, along with Bob James, Lee Ritenour (later replaced by Larry Carlton) and Harvey Mason.
He has endorsed Yamaha instruments since 1981 and developed his own custom 5-string signature model, the BBNE2.
East has received a range of awards from music industry associations including The British Academy of Songwriters, Composers & Authors most prestigious Ivor Novello Award for co-writing the Collins/Bailey classic hit "Easy Lover", Most Valuable Player (bass category) at the International Rock Awards, three time Bassist of the Year at the U.S. National Smooth Jazz Awards, N.A.R.A.S. MVP (bassist), & multiple ASCAP Awards for most performed work.
In 2007 Nathan was honored by the United States Congress and awarded a Congressional Record for his contribution to the worldwide music community.
East is also credited on numerous soundtracks including Dreamgirls, Hairspray, Crossroads, Tarzan, Waiting to Exhale, The Last Temptation of Christ, The Preacher's Wife, Phenomenon, One Fine Day, Lethal Weapon, Escape From L.A., Thelma & Louise and Footloose.
Nathan continues to be one of the world's most sought after musicians with an impressive list of recording credits on over a thousand records. He can be heard on recordings by a wide range of top international artists such as Aretha Franklin, Ray Charles, Beyoncé, Michael McDonald, JJ Cale, Ry Cooder, Whitney Houston, Barbara Streisand, Celine Dion, Usher, Toni Braxton, Justin Timberlake, Lionel Richie, Madonna, Julio Iglesias, Eurhythmics, Kazumasa Oda, Joe Satriani, George Benson, Sergio Mendes, Mary J. Blige, Josh Groben, Michael Bublé, David Benoit, Laura Pausini, Eros Ramazzotti and Barry White. For a complete list of recordings Nate's on check out All Music Complete Discography.
East has produced an instructional DVD called "The Business of Bass" distributed by Hal Leonard Publishing.